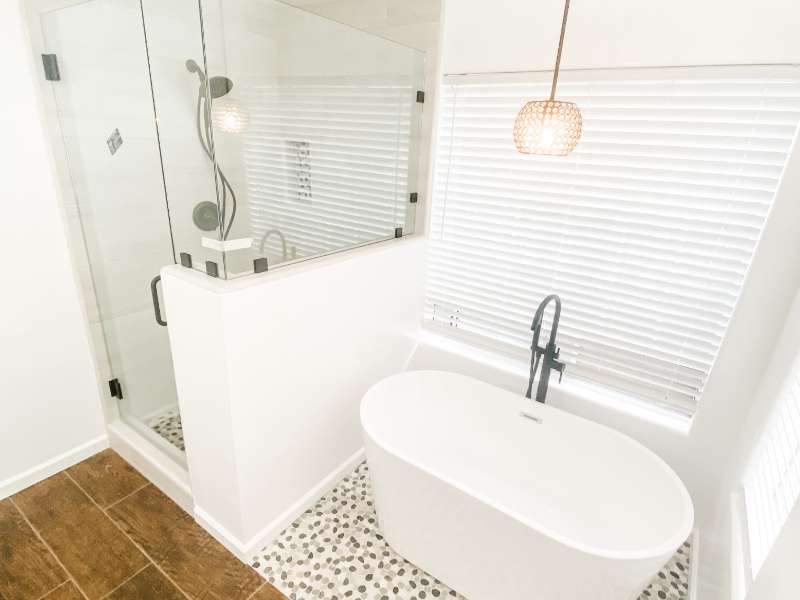 Bathroom Remodeling & Renovations
We build beautiful, luxurious, spa-like bathrooms
If you want to complete a home remodeling project that can improve your lifestyle and how you feel about your personal space than look no further than remodeling your bathroom.  The bathroom is one of the rooms in your home that offers an excellent return on investment when you give it a modern makeover.  Bathroom remodeling can get very expensive very fast depending on how luxurious your tastes are but when you're working with a great contractor you'll find there are high-impact bathroom remodeling solutions that can fit into almost every budget.
Why Do You Want To Remodel Your Bathroom?
Do you have a basement bathroom that needs a makeover?
Do you have water damage in your bathroom and it needs a remodel?
Do you get embarrassed your guests see your old out-dated bathroom?
Does your master bathroom need that luxurious makeover you've always wanted?
Do you want to convert an old bathtub into a shower to open up more space?
Shenkman Construction Co. is a full service home remodeling contractor based out of Nipomo, California and serving San Luis Obispo and Santa Barbara Counties.  We specialize in bathroom remodeling and bathroom renovation projects of all sizes.  From completely gutting your bathroom down to the studs and rebuilding it to building a beautiful new tile tub or shower surround to installing a new bathroom vanity or even building a bathroom where one didn't exist before we'll be able to help you remodel your bathroom so it's luxurious, trendy, feels modern, and more enjoyable for you to use.
Bathroom Remodeling Services We Offer:
New bathroom construction
Bathroom layout and design ideas
Small bathroom remodeling
Hallway bathroom remodeling
Basement bathroom remodeling
Half bathroom remodeling
Full bathroom remodeling
Master bathroom remodeling
Tile shower and tub surrounds
Heated tile bathroom floors
Custom bathroom vanities
Digital shower controllers
Bathroom lighting systems
What You Need To Know About Bathroom Remodeling
There are so many choices to make when it comes to a full-scale bathroom remodel and it can help to know what exactly you want to accomplish with your new space and what type of budget you have to work with.  Whether you have a small hallway bathroom you want to remodel or you finally want to tackle that master bathroom,  here are a few points to consider with your upcoming bathroom remodel.
#1.  Who Will Be Using The Bathroom Most?  Is this bathroom remodel for you and only you to enjoy?  Be careful making the bathroom too personal, as it can hurt resale value if others don't feel the same about your design taste.  Do you have a spouse who is getting ready for work in the morning at the same time you are?  Maybe you'll want more space and a vanity with dual sinks?  Do you have small children who will use the bathroom?  If you have small children that use the bathroom it won't make much sense to build a beautiful tile shower when a bathtub might be more suitable.  Knowing how your bathroom fits into your lifestyle will help guide your choices.
#2.  Are Remodeling An Existing Bathroom Or Building A Whole New One?  If your home only has one bathroom to begin with then adding a second bathroom can really increase your homes value and make it more desirable should you ever wish to sell.  Adding a second bathroom can be quite a bit more expensive though, especially if it's not located close to existing plumbing fixtures.  If you already have two or more bathrooms in the home than it might be a better idea to remodel one of those instead, whichever one you use the most is usually the best one to remodel.
#3.  What Type Of Materials Do You Want?  Materials are always dependent on budget and the sky is the limit when you start wanting to use luxury materials such as ceramic tiles or a custom built vanity or custom tile around your tub or shower.  The plumbing fixtures you choose can also contribute to the cost from using standard fixtures and controls to going digital with your shower controller and more.  The more luxurious your choices are the more expensive your bathroom remodel will be.
Are you ready to get the process started for your bathroom remodeling?  If you want to get expert advice for your bathroom please give us a call (805) 801-9718 or fill out our contact form and we'll get right back to you to schedule your consultation.  We're excited to share our ideas with you.