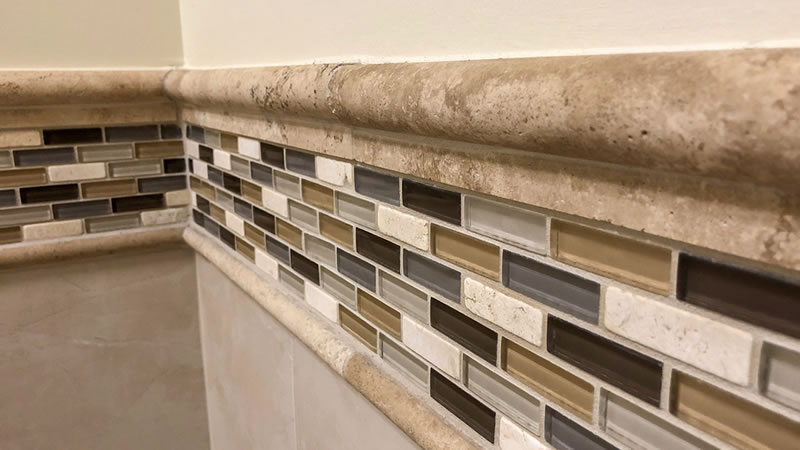 Tile Installer Serving Nipomo CA & San Luis Obispo County
We specialize in beautiful custom tile installations
Are you planning a home improvement project that involves the installation of tile?  Tile will always be a decorative staple in home remodeling projects because of it's timeless look, it's luxurious feel, it's easy to clean and very durable.  There is also an endless supply of colors, patterns, sizes and styles to suit any taste making tile installation a popular option for flooring, backsplashes and shower and tub surrounds.
Shenkman Construction Co. is a full service home remodeling contractor based out of Nipomo, California and serving San Luis Obispo and Santa Barbara Counties.  We specialize in the installation of tile for entryways, bathrooms, kitchens and anywhere else you'd like to have decorative tile installed in your home or your business.  From a beautiful new tile shower surround, to a new mosaic tile floor in your entryway or a new tile backsplash for your kitchen, we'll be able to bring fresh ideas and inspiration to your project.
Tile Installations Nipomo CA
Tile Flooring (kitchens / bathrooms / entryways)
Tile Tub and Shower Surrounds
Tile Backsplashes
Tile Fireplace Surrounds and Borders
Tile Removal and Repair Services
Understanding The Durability Ratings Of Tile
Not every tile is made for every application, there is a durability scale used in the industry called a "PEI" rating and it stands for "Porcelain Enamel Institute."  Knowing the PEI rating of the tile you're looking at can help you determine the hardness and durability for it's application.  The scale runs from 1-5 with a 1 being the most fragile and suitable for wall use only to a 5 which is considered the most durable and suitable for heavy foot traffic.
To avoid premature failure of your tile you need to make sure you're choosing the right tile for the location you'd like to install it.
Types Of Tile We Can Install
Glass Tiles:  Glass tiles are an excellent decorative choice to bring a distinctive look to your home or office and they are an environmentally friendly choice too!  Glass is an easy material to shape, color and style into tiles hence the massive variety available to consumers from opaque to shiny to dull and more.  Although they are made out of glass, glass tiles are still extremely durable and strong and will stand up to years of abuse in both residential and commercial settings.
Porcelain Tiles:  Porcelain tiles are actually a ceramic tile that is considered stronger and more durable than a standard ceramic tile.  It's harder surface resists impact and it's ability to keep out water prevents the material from getting stained.  There are a wide variety of porcelain tiles available in varying colors, styles, patterns and sizes.  Porcelain tiles are very easy to clean if you are after a low-maintenance architectural covering for your surfaces.
Ceramic Tiles:  Ceramic tiles are another very popular option because of their durability, ease of maintenance and wide availability.  Ceramic tiles can be found in both glazed and unglazed versions with the latter requiring a sealant in order to be installed in wet areas like a bathroom or a kitchen counter for example.  Glazed or sealed ceramic tiles are the perfect option for wet and humid areas like a bathroom surround or floor and they resist stains like a porcelain tile.
Natural Stone Tiles:  Natural stone tiles are the ultimate in luxury, these earth harvested materials are very popular in high-end construction and remodeling projects.  Natural stone tiles could be made from slate, limestone, marble, travertine, granite, and even sandstone.  Some natural stone is more porous than others, thus making natural stone tiles slightly more susceptible to stain from liquid spills than porcelain or ceramic tiles.  Natural stone tiles are often the most expensive option.
If you'd like to receive an estimate for your tile installation project please give us a call (805) 801-9718 or fill out our contact form and someone will be getting back to you shortly.