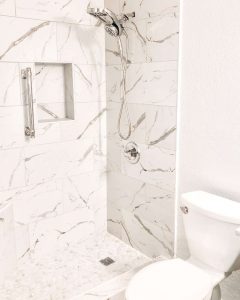 Convert Your Unused Bathtub Into a New Shower
We Specialize in tub-to-shower conversions.
Do you have an older bathtub that nobody in your household is using anymore?  Do you need to remove the bathtub for safety or accessibility reasons?  How about transforming that dingy, old bathtub into a beautiful and safe-to-use, extra-large showering space?  Converting your old bathtub into a new showering experience is what we do best!
Shenkman Construction Co. is a full service home remodeling contractor based out of Nipomo, California and serving San Luis Obispo and Santa Barbara Counties.  We specialize in converting old bathtubs into beautiful and new luxurious showers with all of the modern amenities you'd expect to have in modern shower.  We'll be able to remove your old bathtub and transform that empty space into a luxurious showering experience.  Your new shower can include a shower wall surround, new glass shower enclosure, fixtures, shelving, waterproof lighting, seats, and more.
Barrier free showers
Low barrier showers
Walk in showers
Curb showers
Glass enclosures
Digital shower controllers
Why Are You Converting Your Bathtub Into A Shower?
There are a variety of reasons someone might want to convert an old bathtub into a new shower and there are a variety of solutions we can put together depending on your specific needs.
Kids are all grown up and don't need bath time anymore.
Everyone in the household prefers showers.
You have trouble getting in and out of a traditional bathtub.
Tired of the dated look of your current bathtub.
Customize Your New Showering Experience
If you've been out of the "shower market" for many years you might not be aware of the current trends and even the technology that is now available when it comes to building the perfect showering experience.
If you've found a shower design you like in a friends home, a magazine, on TV or on the Internet, you've just found the local team that can bring your vision to life.  If you need inspiration and ideas, you can put our bathroom remodeling experts to work on your project, just give us a call (805) 801-9718 and tell us what you'd like to do!