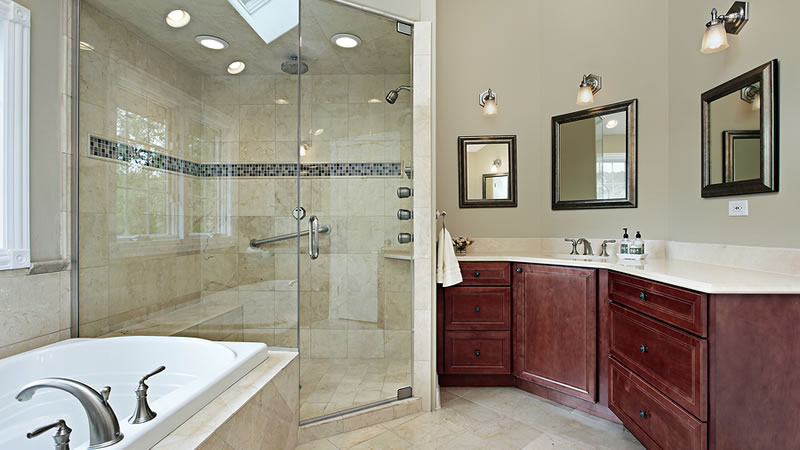 Master Bathroom Remodeling Ideas
Gone are the days when what many considered a great master bathroom consisted of a plain showering space with a large bathtub.  If you consider your master bathroom to be somewhat basic or dated, then maybe it's time you thought about revamping it?
Remodeling your master bathroom will be one of the best luxuries you will ever gift yourself.  It will not only improve the comforts of your master bedroom, but it will also give you something to look forward to after a long day at work or having to get out of bed for an early morning shower before heading out for the day.  A beautiful, luxurious master bathroom can really help to relax you and put you into a good mood.
If you have an older bathroom that has never been remodeled then you can probably list off a number of inconveniences or things you'd like to change about your bathroom. This could include poor lighting or also limited storage space.  It could be a really old, grungy looking shower insert, or flooring that needs to be replaced after years of being in a moisture rich environment.
Imagine walking into your new bathroom, with the warmth of a heated tile floor on your bare feet, a beautiful new floor to ceiling walk-in-shower with an inviting tile surround, a large vanity with his and her sinks, the ability to play music in the bathroom with a built-in stereo, and more.  where you have all your towels meticulously arranged in well crafted beautiful space.  None of this is far-fetched imagination. The truth is that you can have it all, the only deciding factors are your imagination, and yes, your budget.
Apart from your own personal comfort, a magnificent master bathroom also drastically changes the perspective of home buyers if you are considering the sale of your home in the future.  A  beautifully remodeled master bathroom will definitely leave an impression on any interested buyer.
What Should You Remodel In Your Master Bathroom?
There are a host of areas to consider when remodeling your bathroom.  You can choose to upgrade a few fixtures, replace the flooring, replace the vanity, or we can take the bathroom right down to the studs and rebuild it entirely.  It really depends on what you prefer and what type of ideas you have for the space.  For instance, if your bathroom really feels old and dated you could upgrade to a modern tile floor with a beautiful shower surround, maybe you want to go digital with a digital shower controller, or nice and bright LED lighting.
The lighting in your bathroom is one of the most important aspects of your bathroom remodel.  A bathroom with poor lighting can be a frustrating experience, especially when getting yourself ready and trying to groom yourself.  LED lighting, track lighting, and recessed lights, are all very popular.  With smart home technology your lights can also be controlled directly from your smart phone if you're into having a high-tech bathroom.
Your bathroom vanity is always worth replacing and vanities can be purchased from suppliers or even built custom to best utilize your bathroom space.  Built in drawers, shelving, storage, and even his and hers sinks are all popular choices for a bathroom vanity.
Choosing A Professional Contractor
Bathrooms are sophisticated. For this reason, it is highly recommended that you speak to a professional; someone who knows the ins and out of different bathroom designs.
Bathroom designers can suggest to you some exemplary designs. Additionally, a good bathroom designer is able to listen to you and bring out your ideas in a drawing. This gives you a clear representation of what your master bathroom is supposed to look like after the renovation.
It shouldn't be difficult to find a designer who can charge you a reasonable fee. One of the best ways to find one is through referrals or yellow pages. After you have established the design, then you can either decide to hire a contractor or implement the design yourself.
For a complex master bathroom renovation project, it helps to know the contractor's experience as well as some of their projects. This is because expertise varies and you definitely want someone with proven capabilities.
Best Ideas For Remodeling Your Master Bathroom
Although there are amyriad of bathroom remodeling ideas, the best ideas are the ones you're going to get enjoyment from.  What is important is that all of your ideas are integrated into the design, in regards to the space available.  You can find ideas in friends bathrooms, looking in magazines or watching home improvement shows.  You could also check out the MLS listings in your area to look at some of the bathrooms in homes that are on the market, as you'll get to see some of the latest trends in your own local area.
Increasing Bathroom Space
Not everyone is blessed with a massive master bathroom or the adjacent space to expand a smaller bathroom into.  Don't worry though, there are a number of improvements to make a smaller bathroom feel larger.  Renovations are sometimes all about making what you have a better place.  Removing bathtubs and replacing them with a shower that takes up a smaller floor footprint is always popular.  Converting a small vanity to a pedestal sink is also popular and frees up some space.  The addition of a skylight or bow or bay window is also a popular to increase the perceived space within your bathroom.
His & Her Or Double Sinks
A master bathroom with a double sink vanity is always a popular choice if you have the space available.  Double sinks offer quite a number of benefits.  The obvious benefit is that if you step into the bathroom and find your spouse using one sink, it's no big deal, you can use the other.
Another brilliant aspect of a dual sink vanity is the storage space. You will find that you and your partner are able to keep your accessories apart in separate cabinets and drawers. The counter top will have ample space; this means that you can go about your morning or evening routine without getting in the way of each other.
Replace Your Bathroom Flooring
A floor color, pattern or design that compliments your existing bathroom décor is desirable.  Hardwood, natural stone tile, or luxury vinyl tile are all popular flooring choices that work well in a modern bathroom and can handle the moisture.  Whether you are repainting the bathroom or working with the existing color with a little research or professional knowledge you'll be able to find a beautiful flooring option for your space.
Digital Shower Controllers With Multi Shower Heads
If you're into high-tech gadgets in your home then digital showers are among the latest and greatest in inventions to dominate the bathroom and shower industry.  Most home owners are familiar with the standard showers with a hot/cold faucet.  With the introduction of digital thermostats you have the ability to control temperatures more precisely.  Digital showers can also have wireless control units so you can control your shower from anywhere within your bathroom.  The digital display on these controllers can provide you with a flow rate, temperature, and even different spray settings for the water coming out of the shower head.
Upgrade Your Bathroom Lighting
We've touched on bathroom lighting earlier in the article but there is more.  You can look at your bathroom lighting in two ways. One is the natural lighting that illuminates through the windows or a skylight.  Natural lighting can be enhanced by adding an extra window as you remodel, or changing the type of window glass.  Skylights are an amazing addition for a bathroom that don't just improve natural light but also increase the perceived size of your bathroom making it look and feel larger.
The other type of lighting is your electric lighting.  In 2020 LED lighting is probably the most popular form of lighting for a bathroom.  There are a lot of options for this kind of lighting and so many different fixtures and styles that it can be overwhelming.
You also want to have the right kind of lighting for different functionalities.  A dim light in your bathtub area might be preferred for a late evening, relaxing soak in the tub.  On the other hand, you want to have a bright fluorescent bulb over your vanity.
Let's face it. We spend a considerable amount of time in the bathroom taking care of ourselves. This is why remodeling your master bedroom is a great investment in your home. Think of the number of times you come home tired looking forward to a hot and relaxing steamy shower.
Shenkman Construction Remodels Master Bathrooms In Nipomo and San Luis Obispo County
Are you looking to remodel the master bathroom in your home?  Shenkman Construction Co. Is a local licensed and insured home remodeling and construction company based out of Nipomo, California and serving San Luis Opisbo County and Santa Barbara County.  Whether you want us to design a beautiful new luxurious bathroom space or you have your own ideas our team of craftsman will be able to transform your bathroom in the space you've been thinking about.
If you'd like to schedule a remodeling consultation for your master bathroom remodel please give us a call (805) 801-9718 or fill out our contact form and we'll get right back to you to schedule a time.  During our consultation we'll look at your space, answer your questions about the process, make helpful suggestions based on your ideas, and we can also provide you with an estimate for us to complete the project.