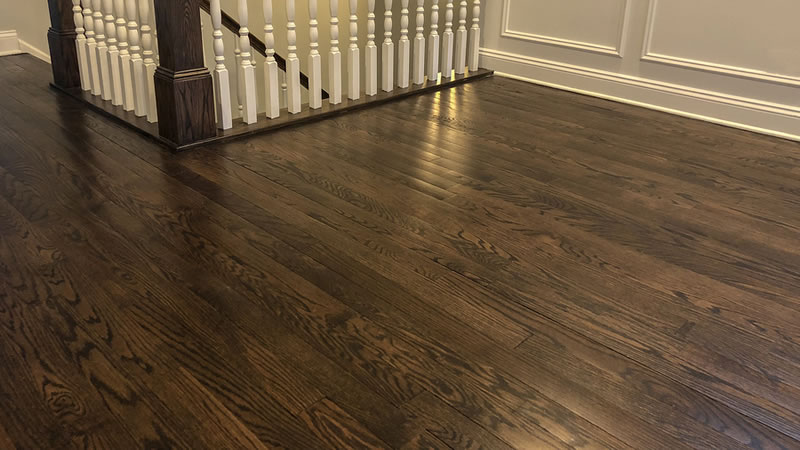 New Flooring is one of the classiest ways to finish off or visually enhance any California home remodeling project.  There are several different types of flooring material and we can help you choose the most appropriate for your home.
Tiled floors are generally easy to clean and maintain and are excellent for high traffic areas of your home or place of business. Laminate flooring is generally the most affordable solution and is commonly found in homes and small offices today.  Luxury Vinyl Tile and Luxury Vinyl Plank are also growing in popularity for their luxury looks, low-maintenance, longevity, and affordable cost.
If you prefer wood flooring than we can install hardwood or engineered hardwood flooring is also an option.  An Engineered Floor still has a solid hardwood surface but is backed with 3 or 4 layers of plywood or HDF (high density fiber) underneath the top layer.
Shenkman Construction Co. is a full service home remodeling contractor based out of Nipomo, California and serving San Luis Obispo and Santa Barbara Counties.  We have extensive experience laying custom tile flooring, laminates, LVT or LVP, engineered flooring and hardwoods and we can totally transform the flooring in your home. Flooring is such a popular home improvement project because of the immediate and dramatic improvements in your home interior appearance.
Flooring Materials We Work With?

Tile or Stone Flooring – If you're looking for an earthy ambiance in your home or a very relaxing atmosphere than you should consider naturally colored tiles or stone. Earthy colors can make for a very visually appealing floor and exude a sense of luxury that is becoming more and more popular. Shenkman Construction Co.  Specializes in the installation of tile, slate and stone flooring.
Engineered floors offer the perfect balance between the elegance of a beautiful hardwood floor and the affordability of a laminate floor.  An Engineered Floor still has a solid hardwood surface but is backed with 3 or 4 layers of plywood or HDF (high density fiber) underneath the top layer.  The hardwood surface of your floor will still be real genuine hardwood and have the same look and feel you love with traditional hardwood flooring.
Hardwood Flooring – Hardwood Flooring brings a level of class to your home that you just can't match with a laminate or other synthetic material. It's visually appealing and a durable flooring material offering many years of use. Hardwood floors are available in a wide variety of species and finishes, and fit into many budgets.  One clear benefit to a hardwood floor is that it can be refinished 3-4 times in it's lifetime which provides a homeowner with great long-lasting value in their new hardwood floor.
Laminate Flooring – Laminate flooring is commonly installed throughout California homes and businesses. Often found in the kitchen, living room, offices and basements. Laminate flooring looks great and is available in many different patterns, colors and thicknesses. Always opt for thicker material if your installation will allow it. One major drawback to laminate flooring is it's inability to withstand moisture. For example, if you had a water filter under your sink that burst, or a hot water tank gives way the water will totally ruin the laminate floor. If water isn't going to be a problem, then laminate flooring is a good choice.
Flooring Services We Can Provide:
Kitchen flooring
Bathroom flooring
Wall tile installations
Hardwood flooring
Laminate flooring
LVT (luxury vinyl tile) flooring
LVP (luxury vinyl plank) flooring
Tile, LVT, LVP, hardwood, engineered flooring, and laminate flooring are signature services of Shenkman Construction Co.. With extensive experience, you can rest assured knowing your project will be in the hands of qualified craftsmen from start to the final reveal.
If you'd like to schedule your flooring consultation please give us a call (805) 801-9718 or fill out our contact form and we'll get right back to you.