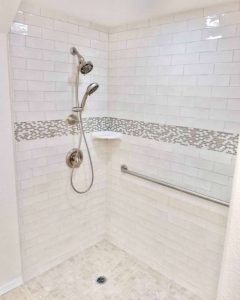 Do You Want To Remodel Or Replace Your Shower?
The showers in our homes are usually used every single day.  After years of use they can become grimy, rust-stained, mineral stained, they are harder to keep clean, and they can even develop cracks in the materials leading to leaks and water damage.  If a good cleaning doesn't bring back the shine to your shower or it's damaged beyond repair or it looks like it came from another century then it's time to consider replacing it with a new showering system installed by Shenkman Construction Co.!
Why Do You Want To Replace Your Shower?
Shower is dated and out-of-style
Shower base or surround is leaking
Trying to give your rental property a quick makeover
Tired of trying to keep your old shower clean
Change the style and layout of your shower
Our shower replacement projects involve completely removing your old showering system including the shower pan, shower surround, and shower enclosure.  We can also remove the shower faucets and shower head and replace them with newer, better looking, better performing upgrades.  With your old shower removed and out of the way we can then install your brand new shower.  With a shower replacement we can also install a new glass shower enclosure and even accessories to enhance your showering experience such as a shower seat or even a shelving unit to store all of your personal hygiene items.
Replacing your shower isn't a massive project either and can be completed by our team of professionals in just a few days.  We have several styles and colors to choose from to transform any shower (whatever condition) into a beautiful, new and luxurious showering space for you and your family.
Shenkman Construction Co. is a full service home remodeling contractor based out of Nipomo, California and serving San Luis Obispo and Santa Barbara Counties.  We specialize in replacing old, dated, grungy and grimy showers using a variety of materials including tile, stone, or fiberglass shower enclosures.  No matter how big, how small, how damaged, or how dirty your current shower is we'll be able to replace it with one of our beautiful showering systems custom tailored to fit into your bathroom space.
Get started now by calling (805) 801-9718 or fill out our online contact form and we can get right back to you to schedule your consultation for your new shower.