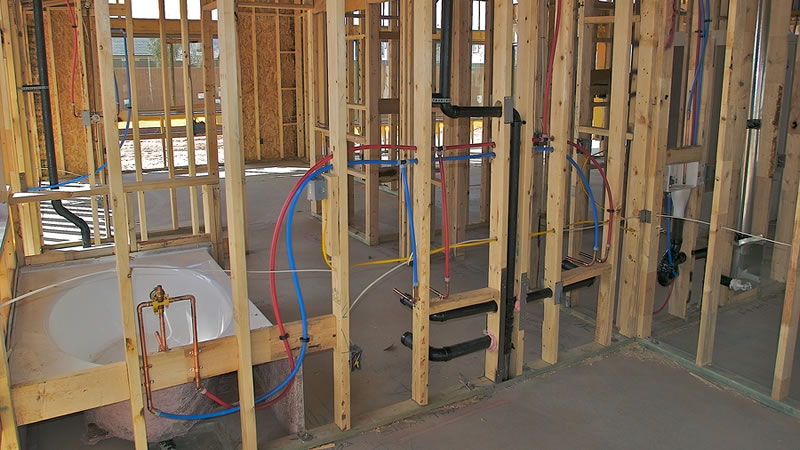 Plumbing & Electrical Installations Nipomo CA
Do you have plumbing or electrical work required for a remodeling or renovation project?  Maybe you need to relocate some electrical outlets or install some new lighting?  Maybe you'd like to move plumbing fixtures around or install plumbing in a section of your home that doesn't have plumbing already?  These are all common home improvement projects.
Shenkman Construction Co. is a full service home remodeling contractor based out of Nipomo, California and serving San Luis Obispo and Santa Barbara Counties.  As part of our home remodeling services we also specialize in small plumbing and electrical installation projects.  If you're hiring us to remodel your home we'll be able to handle all electrical and plumbing work too.
Plumbing Projects Include:
Relocating fixtures
Installing new plumbing fixtures
Installing new sinks
Installing new plumbing systems
We do NOT offer plumbing repairs.  Installation only.
Electrical Projects Include:
Wiring in new light fixtures
Wiring in new electrical outlets
Relocating electrical outlets or light fixtures
Installing ceiling fans
Installing light switches, timers, thermostats
We do NOT offer electrical repairs.  Installation only.
We're The Right Contractor For Your Home Remodeling Project
Let's face it… Anyone with construction experience can buy some tools, get a license, and call themselves a contractor.  This doesn't mean they are all capable of the same quality and standards with regards to their craftsmanship or the customer experience they offer.
It's through our unwavering commitment to each and every customer that our business continues to grow through the word-of-mouth referrals and recommendations our happy customers continue to give.  We'd love the opportunity to take a look at your potential remodeling project so you can see first hand how easy we are to work with and how knowledgeable we are in the remodeling process.  You want to make significant changes to your home and we're the company that can do them for you.  Are you ready to get started?
If you'd like to schedule your home remodeling consultation please give us a call (805) 801-9718 or fill out our contact form and we'll get right back to you.